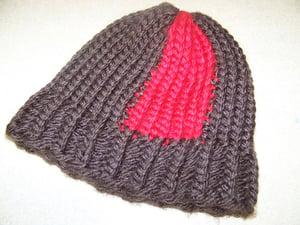 $

20.00
Are you a Browncoat? Do you lament the demise of the Serenity and her crew on a daily basis? Then show your gorram support in a warm and stylish Browntoque.
This is a brown knit hat with a vertical red panel to represent the red accents worn by Mal and Zoe. It has a ribbed knit, lay-flat brim in an acrylic/wool blend.
All products are hand-knit to order. Please allow up to one week before they ship.
See Sizing page for fit information.